Bankers in India do not enjoy a good image. They are seen as friends of the rich business class and politicians and enemies of the weaker classes. If you doubt me, try to visit any bank and say that you need a business loan. Believe me, for sanctioning a business loan of 5 lakhs, they will make you feel like you asked for 50 crores. But all the formalities and prudence vanish while dealing with powerful guys. Every now and then you can see in business newspapers how these bankers have made a joke out of the common man.
Well-known Banking fraud cases
It was really shocking for me to know that the much-celebrated Chanda Kochar – the star CEO of ICICI Bank was involved in the Videocon lending irregularities case. A money laundering case has also been registered against her by the Enforcement Directorate. Or take the case of the well-known PMC Bank default in which the MD Mr. Joy Thomas was the culprit. You might also remember how Rana Kapoor almost destroyed Yes Bank and RBI had to step in to save the depositors. Rana Kapoor now faces a money laundering charge and has recently come out on bail.
These high-profile cases get the attention of media and journalists and are exposed. But one can only wonder how many small-scale frauds are committed by the bankers are never exposed. You might have heard about some stories of how some bank managers helped illegally convert old notes with new ones after demonetization in 2016.
Even national banks such as Punjab national bank have been known to be involved in some shady deals.
Corruption in the Banking sector continues
By corruption, we do not mean that bankers demand bribes from regular customers. But corruption in Banking means sanctioning loans without proper reviews and due-dilligences. These are basically done under political pressure or as personal favors with hopes for monetary gains. With such rampant corruption or fraud prevalent in the banking and financial services sector, an investor ought to be extra careful. The obvious lesson is that Investing in an Indian bank is always risky no matter how clean it may seem. Some Private Bankers too are involved in these shady businesses but there have been fewer such cases in media. It may be possible that private bankers are smarter and better hide their frauds.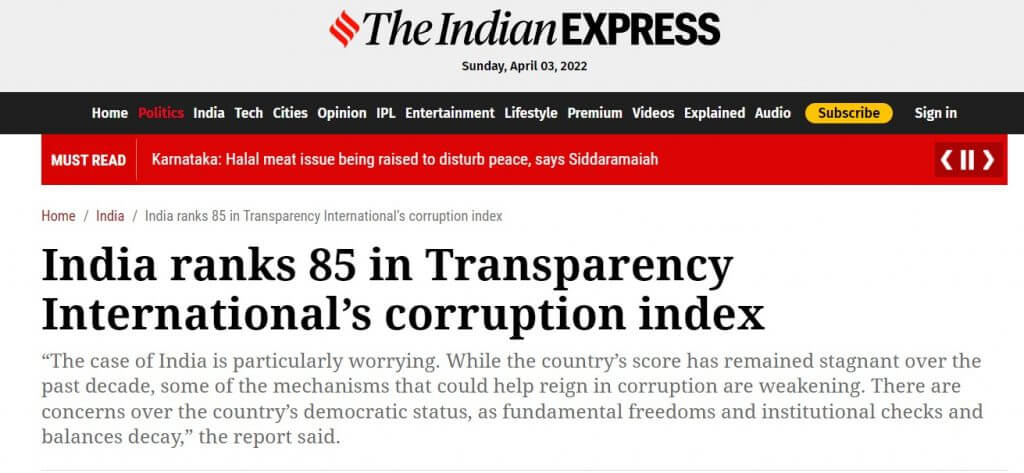 Corruption in Government Departments in India
Most of the public servants in India are bloody corrupt. India ranks 85 on the corruption index which has 180 countries in total. From my experience as well, corruption is rampant in many government departments. The Indian judicial system will make you cry if you get a chance to experience it. Some people say that we should refuse to pay what the official demands. But my dear friend, do you think the poor farmer or street vendor or shopkeeper has the ability, time, and energy to record proof that an officer demanded a bribe and then file a complaint to the Anti-corruption department. Yes, a proof that bribe was demanded is required to make a complaint to the Anti-Corruption department.
The monopoly that the government enjoys in various arenas is the reason for this attitude of these government officials. If pre-emptive steps are not taken by the government to catch and punish the corrupt, the situation will stay the same.
My experiences with some Govt. and Private Banks
Allahabad Bank now known as "Indian Bank" is one of the worst national banks I have seen. Our housemaid went to Allahabad bank to get settled the death claim of her mother-in-law. The old lady had about 3 thousand rupees left in her account. The evil bankers made the poor lady run so many times to the bank pointing out some small mistake in the form every time that she got frustrated and hopeless.
Can you believe they need a witness to settle the claim amount to a nominee? And the witness has to be a customer of the same bank or some Gazetted Officer. If there was no nominee added in the old lady's account, then the formalities required to prove that you are a legal heir of the deceased will be so troublesome that you may decide to leave the money if it is not a huge sum.
My poor experience with Canara Bank or Syndicate Bank
My father had a savings account in Syndicate bank. He had added the nominee as my mother. When I visited the bank with my mother, they insisted that we open an account in their branch. I found no reason to open a new account just to get the claim settled. They tried to fool me by saying that we had to open an account for getting the claim as per new rules.
I then met the manager and asked about the rule which says that the nominee needs to have an account in the same bank. He admitted there was no such rule but gave some vague reasons to open an account. I insisted that my mother cannot manage multiple accounts and that the money be transferred to her existing account in a different bank. Reluctantly he agreed but I could see clearly that he was not happy.
Because the amount was a few lakhs, they wanted us to open an account. Had the amount been few thousand they would not have cared less I can tell you.
Get 2 witnesses to get your own money.
Now reluctantly the manager asked his subordinate to settle my claim. The subordinate gives us the claim form in which they need two witnesses. And the witnesses cannot be any ordinary person. They want an elected politician or a gazetted officer or someone who has an account in the bank. All the rules to harass the poor customer. And to get our own money.
Double Standards
No witness would have been required if we opened a new account in their bank. After seeing their attitude, I will never open an account in any government bank. Their real face can be seen in these situations only when you need their help. They will make you run from pillar to post for getting even small things done.
They know their powers very well and how to use them against the weak. The government is a party to their crimes.
My recent experiences with government banks are so pathetic that I think that they must be privatized as soon as possible. I am not saying that private banks are all pure as snow. They too are extremely greedy and will try to sell you different bad schemes and policies but at least they have an effective customer complaint mechanism and they have some fear. They also do not treat you like you get treated in a government bank. Moreover, private banks generally offer better online banking so you would not need to visit the branch as often.
My bank accounts
Personally, I have accounts in ICICI Bank, Bank of Baroda, and IDFC First bank. I have had no service quality issues with ICICI bank so far. Its mobile banking app is also good. But I speak for myself and there would be bad experiences with people for sure. Bank of Baroda is a govt. bank. But I would say it is a little better than other govt. banks and I see it is trying to catch up with its private competitors. The mobile banking app is good but compared to ICICI bank's mobile, it still has a long way to go. The internet banking experience of Bank of Baroda is like hell. Never try it. It will frustrate the hell out of you and you will pull your hair out. I tried a few months back and I am not going to try again.
My IDFC First account
IDFC First Bank is a new private bank trying to make a place for itself by luring clients and offering attractive features. The bank has a pretty neat little mobile banking application. The CEO Mr. V Vaidyanathan being a former top official at ICICI seems to be doing a pretty good job on the digital side. However, one little complaint is that after I withdraw money from ATMs, I have noticed a considerable delay in getting the deduction SMS.
IDFC First bank has done some good advertising and I was interested to invest in the bank. So I thought about opening an account with them to get a feel of their culture. Turns out just okay. Employees are sweet when you go to open an account. However, they do not have the same behavior with all customers(especially those that have taken loans) as per my observation. Again, this is my personal experience and should not be considered solely before taking any decision. I will share the complete experience with IDFC First bank in a later post.
Conclusion
If you are an investor, take extra precautions before investing in banks. Never believe the claims of these evil bankers. I don't think their financial statements reflect the truth. These are robbers disguised as bankers to make the fool out of you. However, banking has become an essential part of the economy so you cannot stay away.
My message to you is never trust a banker. They will in almost all probability think about the bank's interest before you.
But you cannot depend on others when it comes to money. You must always do your due diligence before giving your money to any institution.
However, all is not bad and there are some good people in the system who have supported many businesses. Banking and the financial sector can work wonders by providing credit to the deserving hard working people of India, instead of the affluent and powerful.
If you've had a bad experience with any bank, you can share them in the comments.