I was quite surprised at first when I found that I cannot pay with PayPal on amazon and flipkart. I had a Rs 200 cashback voucher lying in my PayPal account which was going to expire in two days. So I did some research and found a quick workaround to buy anything on amazon or flipkart with PayPal. The trick is to buy e-gift cards and add them to your Amazon / flipkart account. The steps are very simple. Let's see.
How to buy anything on amazon using PayPal?
All you need to do is that you have to buy an e-gift card from an external website that accepts PayPal. I found such a website called zingoy.com to be suitable for the job. You may try other websites if you want but there are a limited number of websites accepting PayPal. First of all, create an account on zingoy.com then proceed to buy the coupons.
IMPORTANT UPDATE: Paypal has announced that it will stop its domestic payment services in India. You cannot buy Amazon gift cards with PayPal in India. This article was written originally in 2019 and may not help you now. Please read more here: https://m.businesstoday.in/story/paypal-to-shut-domestic-payments-business-in-india/1/430349.html
I used zingoy to buy a Rs 50 amazon E-gift card. The thing to remember here is that the gift cards are only available for fixed amounts such as 100, 250, 500 up to Rs 2000.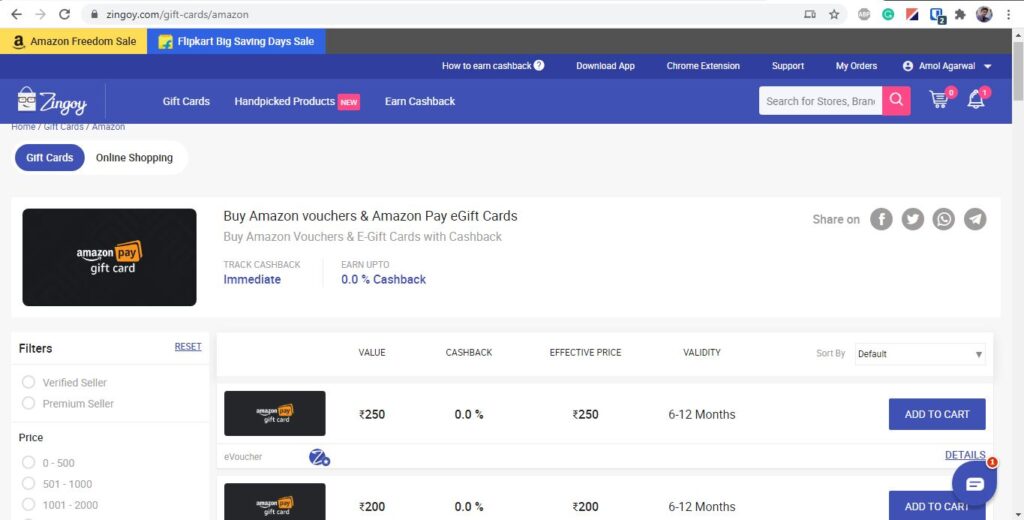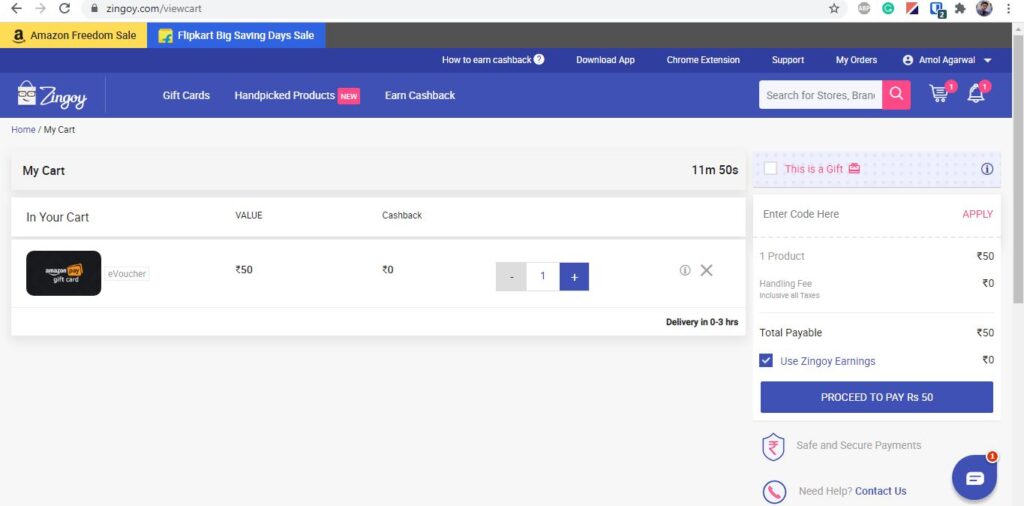 Visit zingoy.com and select the E-gift card of the required value by clicking the Add to Cart button. Then you will have to make the payment. Select PayPal for making the payment and login to your PayPal account. After making the payment successfully, you will receive the e-gift card on your email as shown in screenshots below.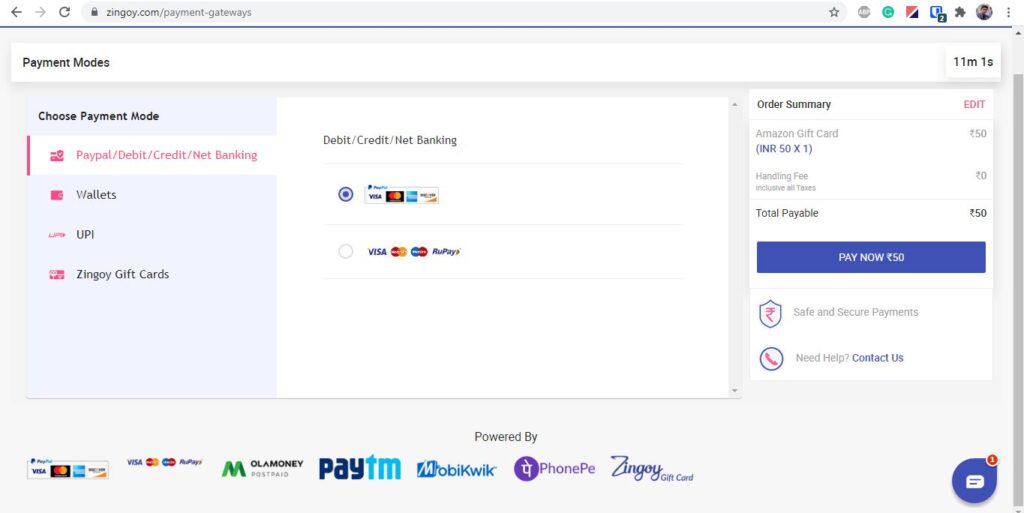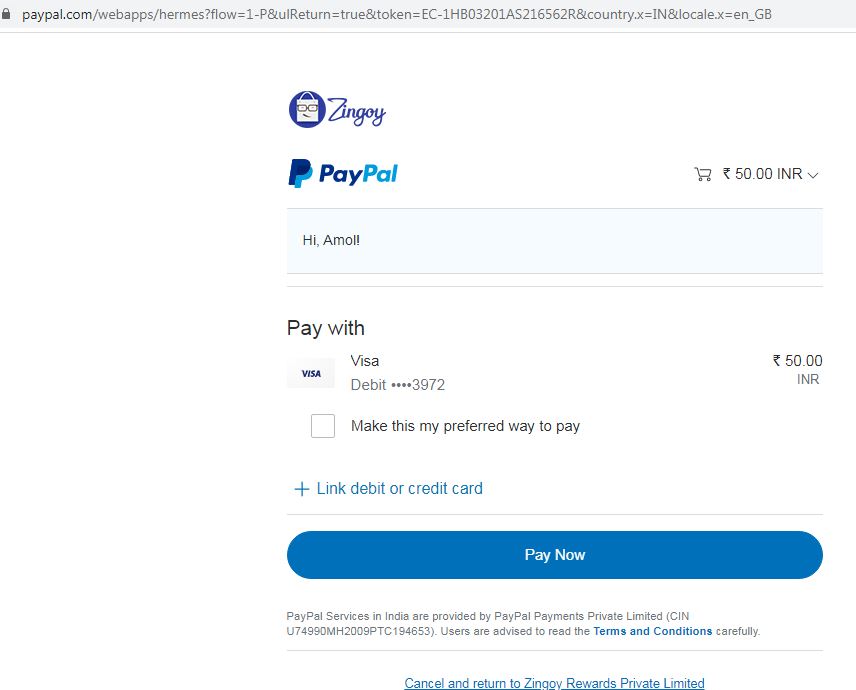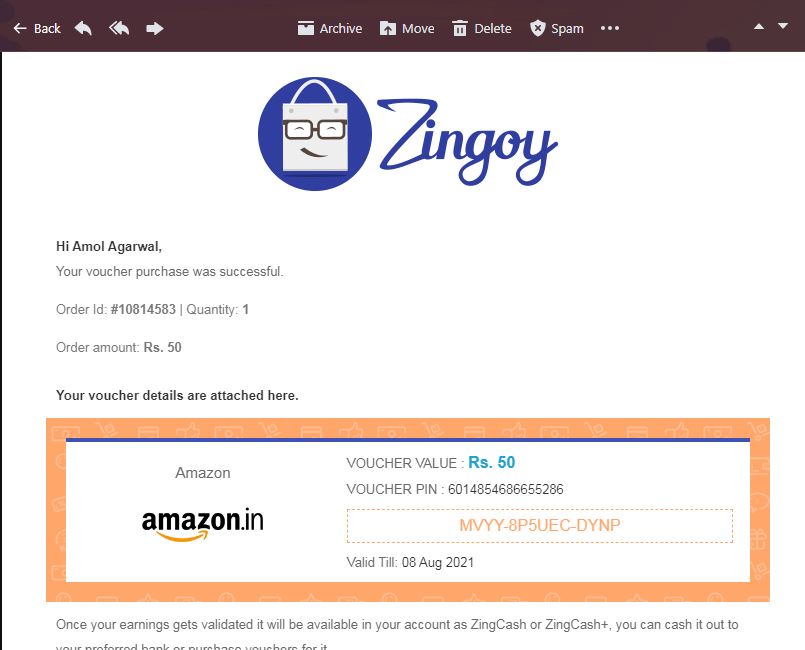 Add the Gift Card to amazon
After receiving the gift card on E-mail, you have to add it to your amazon account. To do so, go to amazon, log in using your id and password, and enter the alpha-numeric PIN received in the gift card. The amount will be added to your Amazon Pay balance which can now be used to buy anything on Amazon India website.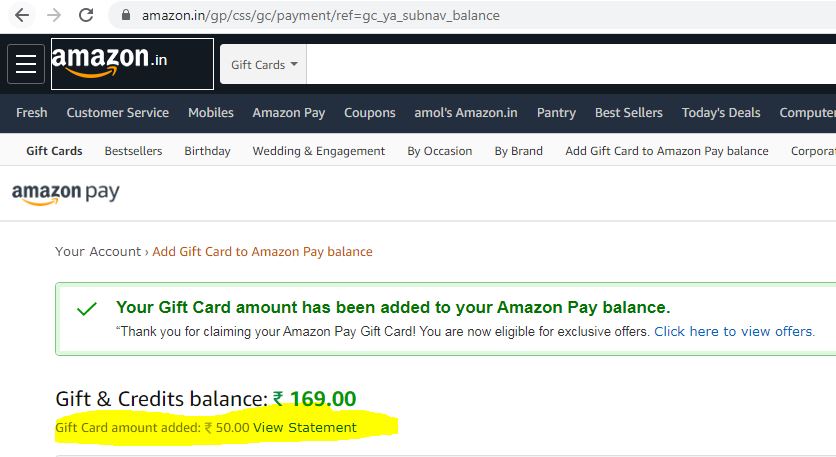 Congratulations! You just learned how to pay with PayPal on amazon.
FAQs:
1. Does Amazon accept Paypal?
No, Amazon does not accept PayPal as a payment option directly. You have to use indirect methods such as buying gift-cards from third party websites for buying on Amazon India.
2. Does Flipkart accept Paypal?
No, Flipkart does not accept PayPal directly. You have to use indirect methods such as buying gift-cards from third party websites for buying on Flipkart. You can buy coupons from websites such as zingoy.com, woohoo.in, etc.
How to buy anything on flipkart with PayPal?
To make a purchase on Flipkart with PayPal, buy gift card from zingoy or any other website that accepts PayPal. Then add the gift card to Flipkart and enjoy. Just remember that gift cards are only available for discrete amounts such as Rs 250, 500 upto 1000 etc.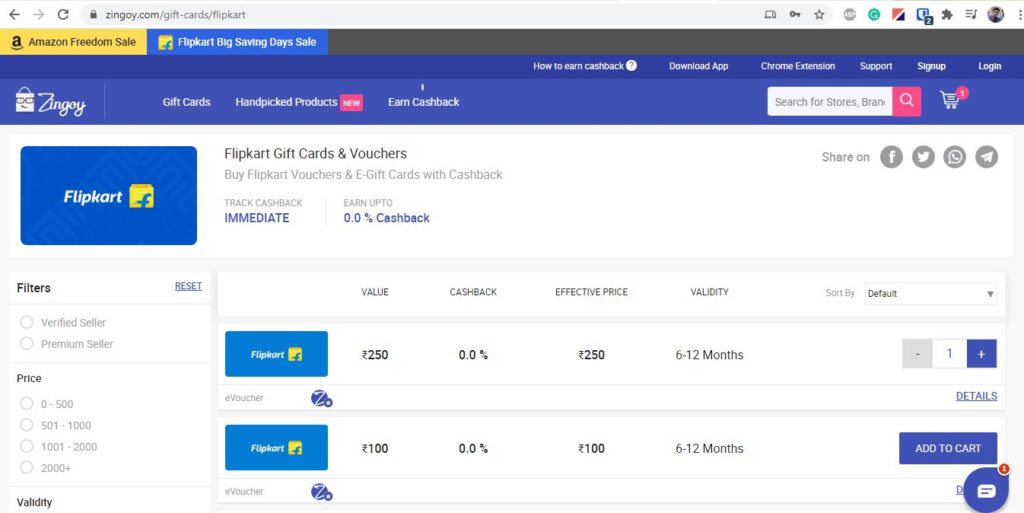 Why Amazon does not accept PayPal?
Amazon must be crazy for not accepting PayPal. PayPal is a reputed and rather old payments service trusted by millions over the world. But that's not the case. It turns out that there's a business motive behind excluding PayPal – to push Amazon Pay (relatively new) ahead of the already established PayPal with a huge userbase.
So if Amazon starts to accept PayPal on its website, it would hurt Amazon Pay as both are competitors. If you ever shopped on eBay, you will recall that there we had PayPal integrated. Paypal was launched in 1999. It was acquired by eBay in 2002 and stayed with it until 2015.
Takeaway
I am sure that this method has worked for you and you were able to make purchases using paypal on amazon or flipkart. If you are facing any issues, feel free to ask in the comments below. If this article was helpful, please comment below so that I may bring more such posts.

Update- August 2020
The original version of the post suggested using a website called grabon.in to buy Amazon India and Flipkart gift-cards. But the gift cards are out of stock on grabon for many months now hence I have updated the article and the new method is 100% working. Thanks to the readers for bringing this to attention.