Would you believe if I told you that there is a kickass way to enjoy the benefits of real estate investments without going through the time-consuming process of land registration, paying property taxes, and several other hassles? Well, we are going to discuss one such investment avenue today that can open a whole new world of possibilities for real estate lovers. A Real Estate Investment trust, commonly known as REIT is a trust that owns, manages(operates), or finances cash flow generating real estate. They are a completely new financial product available to Indian investors.
REITs can be useful to people looking to invest in real estate in India but do not have the time, money, or expertise to purchase/manage properties on their own.
It is not known to many people that the large corporate companies do not own their offices but instead rent office spaces in large commercial complexes.
The companies that build and maintain these commercial spaces often need money for expansions or to pay back old debts and therefore they need to borrow money.
To raise capital from the open securities markets (which is cheaper than borrowing from banks), some real-estate companies choose to form a real estate investment trust and issue units of the REIT to the investors through an IPO. These units are then traded in the secondary markets just like shares and ETFs.
REITs bring investing in real estate within the common man's reach. Investing in REITs is similar to buying shares from the stock market. Being traded publically on exchanges, their liquidity is higher than real estate. First introduced in America in the 1960s, SEBI introduced REITs to India in 2007
'Embassy Office Parks' and Raheja group's 'Mindspace' are the only two publically traded real estate investment trusts in India as of October 31, 2020.
Statutory Requirements for REITs
REITs are regulated by market watchdog SEBI.
They are required by law to distribute 90% of their rental income among the unitholders. Hence they can be a source of regular income just like rental income from your property.
REITs must have 80% of their investments in completed and income-generating assets.
Total debt cannot exceed 49% of the total asset value.
The regulatory requirements for REITs in India are pretty stringent and authorities have tried to ensure that investor interest is not easily compromised.
What are the types of properties REITs invest in?
REITs have real estate as their underlying asset just as mutual funds have equity (stocks) in their portfolio. They prominently comprise assets such as Malls, Commercial spaces for Offices, Hotels, data centers, Warehouses, etc.
Business Model Of A Real Estate Investment Trust
REITs primarily make money from rental income from the properties they operate. They also charge some common area fees from their tenants. Some service charges can also be levied. After keeping some percentage of profits as management fees, the REIT distributes the income among its unitholders.
The office spaces are mostly rented on long term leases of many years. Hence the probability of sudden shocks in revenue is less. Most of the clients often are top corporates and chances of a payment default are slim.
Embassy Office Parks REIT
Embassy Office Parks is India's first real estate investment trust publically traded on the Indian bourses. It owns and operates multiple commercial office spaces, four luxury hotels (2 hotels still under construction), and a 100 MW solar power plant.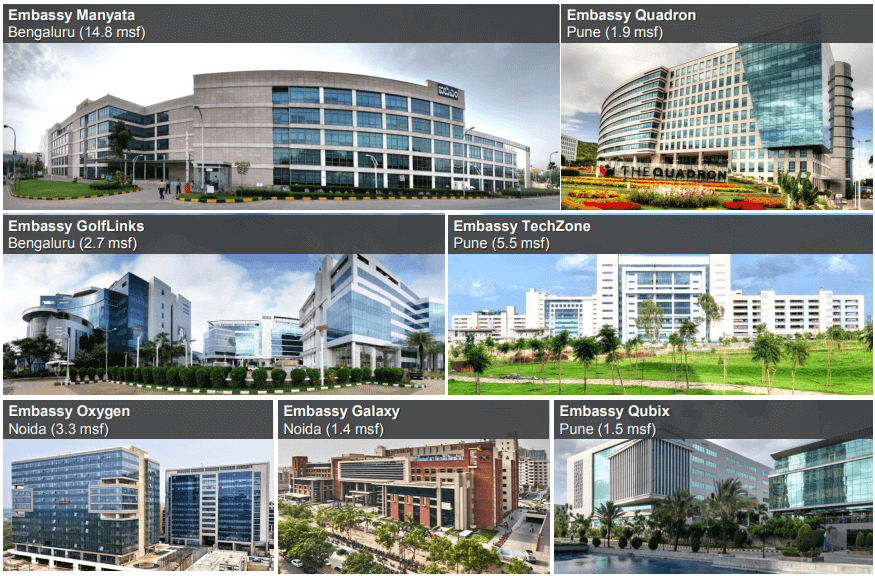 Portfolio & Distribution
The total area under its portfolio is 33.3 million square feet (~765 acres). The completed area is 26.2 million square feet (~601 acres). It operates 78 office buildings located in Bangalore, Mumbai, Pune, and NCR.
56% of the completed portfolio (in terms of completed area) is situated in Bangalore followed by Pune at 20.99%, Noida at 14.88%, and Mumbai at 7.63%.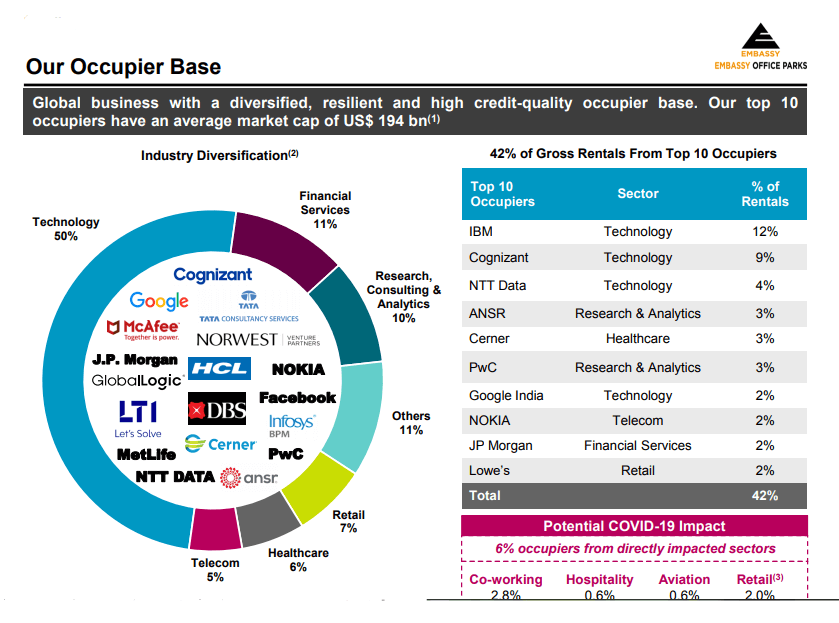 In terms of gross asset value, Bangalore again maintains the lead with 63% of total gross asset value. Mumbai comes second with 15%. Pune is third with 13% and Noida holds the last spot with 9% of the total Gross Asset value.
It would have been better if the portfolio were less concentrated as any adverse situation in Bangalore could hurt the revenue stream.
When was Embassy Office Parks REIT listed?
Embassy Parks was the first REIT to be listed on the Indian stock exchanges NSE & BSE. It is being publically traded since April 1, 2019. Embassy Parks IPO was issued at a price band of Rs 299-300
What is the minimum amount of investment I can make in Embassy Office Parks REIT?
As per the latest SEBI guidelines, a minimum of one lot of 200 units has to be purchased in a REIT. Hence, at the current market price of ₹344/unit (as of 30 Nov 2020), the total comes out at ₹68,800.
How much dividend has Embassy REIT paid in FY 2019-20?
In the FY2019-20, Embassy Office Parks REIT paid a total dividend of Rs. 24.39 on each unit (Just like companies have 'shares', REITs have 'units').
What was the return on investment for Embassy Office Parks REIT in FY 2019-20?
The return on investment for buyers of the IPO turns out to be 8.13% Per annum of the sum invested excluding the market value gains. (Embassy parks closed at Rs 346 on October 23, 2020)
5 Facts you should know about Embassy Office Parks REIT
160 + Blue chip companies are its clients. 42% rental income earned from the top 10 clients.
The occupancy rate in FY2020 was 92.8%.
The Weighted average lease to expiry(WALE) period is 7 years.WALE is inversely proportional to the risk of going vacant. Hence higher the WALE, lower the Risk.
S.R. Batliboi & Associates LLP were the auditors of the financial statements of Embassy Office Parks for the year ended 31 March 2020. The auditors were banned from performing commercial bank audits for one year by the RBI due to some lapses found in its earlier audits. Therefore, we should read the financial reports with an open eye and a skeptical mind.
The debt to total enterprise value is 16% and net debt to equity capital is 25%. The level of debt at this stage is comfortable.
Should I Invest in Embassy Office Parks REIT?
Before asking this question, you should be clear about your investment goals. REITs are like fixed-income assets(but not the same!) with a somewhat predictable rate of return. They are highly regulated and hence less risky than stocks.
The Embassy office parks REIT is not going to disappear overnight. In fact, the office where I work is situated in Embassy's Galaxy business park in Noida, and the property is well maintained.
Last year it gave 8.1% of investments back to unitholders as rental income. (Excluding the market cap gains) which seems okay now as bank FD rates have plummeted in the current year. This makes this REIT a little more attractive than FDs in 2020.
You can invest in Embassy Office parks REIT if you have enough cash to spare and do not need it immediately. Do not put your entire savings in it. Although the instrument appears to be safe on paper, some hidden risks may surface over time.
REITs are long term investments, and If you keep yourself informed about all the developments, small fluctuations in its market price daily should not worry you. You should watch out for any legal issues the company is involved with to save yourself from pain later on. If you are investing a huge part of your portfolio in the trust, please make sure you read the Annual Report carefully.
Mindspace REIT
Portfolio and Distribution
K Raheja group launched the IPO of Mindspace REIT this year. The Mindspace REIT got listed on Indian bourses NSE & BSE on August 7th, 2020. Mindspace holds a total leasable area of 29.5 million square feet (MSF) (~677.22 acres) and a completed area of 23 MSF under its portfolio. It has 53 completed buildings in Mumbai, Pune, Hyderabad, and Chennai.
Mindspace REIT's portfolio of properties is spread across four major metropolitan cities of India. Mumbai region has 41.1% of the total leasable area held by Mindspace. Hyderabad holds 39.3%. Pune has 16.9% and Chennai comes last with 2.7% of the total leasable area.
The portfolio is concentrated – the Mumbai region and Hyderabad constitute 80% of the area.
The properties are occupied by more than 170 tenants. The top 10 tenants contribute revenue of 41.6%.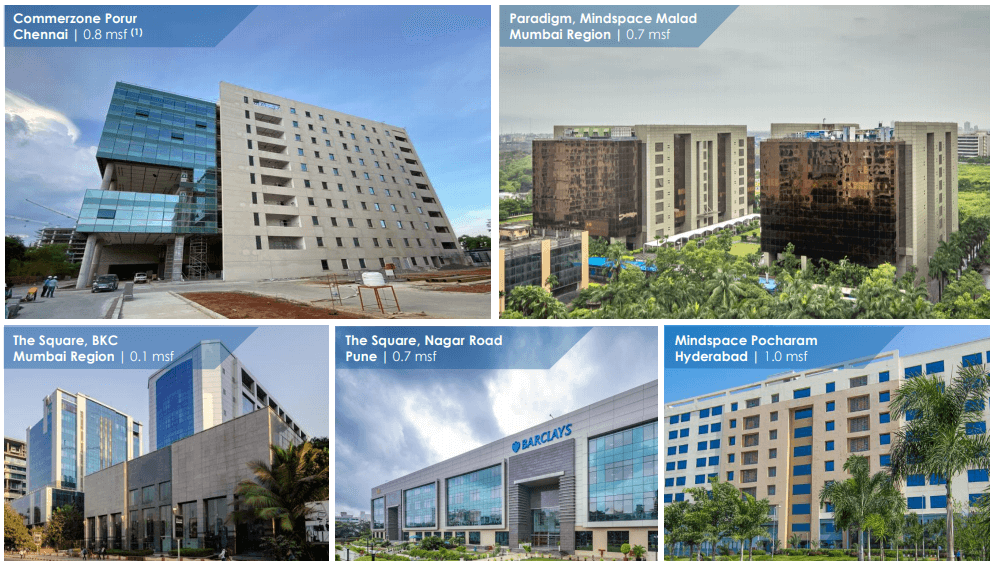 5 Facts you should know about Mindspace REIT
Mindspace collected 97.5% average gross contract rentals in March, April, and May 2020 during the lockdown.
The Weighted average lease to expiry(WALE) period is 5.8 years, which is decent.
92% Occupancy rate (latest reported)
2.8 MSF area is under construction and 3.3 MSF planned for development. 2.6 msf Area under construction is expected to be ready by FY22.
The Mindspace REIT is managed by the K Raheja group which is one of the largest commercial real estate developers in India. However, it is smaller than the Embassy Group.
Can I buy REITs online from my stock broking platform?
Yes, you can buy the REITs just like you buy your stocks and ETFs from your trading platforms such as Zerodha, Upstox, HDFC Securities, Sharekhan, ICICI Securities, etc. The only requirement is that you can buy in lots of 200 units each.
Just Search for 'Embassy RR' and 'Mindspace RR' on your broker's app or website.
Embassy Office Parks vs. Mindspace
Parameter
Embassy Office Parks
Mindspace
Total completed Area
601 acres (26.2 msf)
528 acres (23 msf)
Area under development
2.6 msf
2.8 msf
Dividend distributed in FY2020
₹24.39 per unit
REIT launched in FY2021 – no dividend announced yet
Rent per square foot
₹68
₹52.5
Occupancy Rate
92.2%
92.4%
WALE (longer the better)
7 years
5.8 years
Mark to Market Opportunity (higher the better)
30%
33%
Year Launched
2019
2020
Geographical Presence
Bangalore, NCR, Mumbai, Pune
Pune, Mumbai, Chennai, Hyderabad
Minimum Investment at Current market prices (30 Oct 2020)
₹68,800 (200 units @₹344/unit
₹61,000 (200 units @₹305/unit)
CRISIL ratings
NOTE: AAA is the highest rating, AAAr is a little bit more riskier than AAA.

Ratings change over time.

'AAA STABLE' for NCDs worth ₹5,500 crores
'AAAr STABLE' for ₹500 Crore Long Term Principal Protected Market Linked Debentures
Comparing Embassy Office Parks with Mindspace REIT
Clearly, both the REITs are strong contenders with a good portfolio of commercial spaces with a great occupancy rate. Both companies are reputed in the market.
Impact of Covid-19 on REITs
There has been a negligible impact of the pandemic on rent collections for both Embassy as well as Mindspace since most clients are financially stable corporate giants.
Risks to REITs from work-from-home culture
COVID-19 has certainly hurt the market sentiment and most employees are working from home. Many researchers point to the fact that work from home is only going to increase after the pandemic ends.
The immense cost benefits can outweigh the benefits of coming to the workplace.
While some companies like TCS have long-term plans to shift work to home permanently for a large number of people, Microsoft CEO Satya Nadella thinks working from home can be tiring.
Work-from-home is here to stay as it has been broadly been successful for most organizations and for corporates, profits always comes first.
Demand for office spaces may see a drop in the coming years which could be a legitimate risk to REITs. We will have to be patient and keep learning about the situation as it evolves. The number of lease renewals as they expire can be a good indicator of the demand.
Final Verdict
REITs are nascent products in India and the market will take some more years to mature. Given the long term contract model for leasing office spaces, there seems to be low risk in these products(in the near term) unless some hidden facts emerge or a great scam surfaces, the probability of both of which appears very low at this point in time. Investing a small percentage of your portfolio (not more than 10%) in REITs sounds a fine idea for diversifying your portfolio.
I hope the above comparison of Embassy office parks REIT with Mindspace REIT helped you get an overview of both the offerings and will help you make a more informed decision. It is rightfully said that the early bird catches the worm and therefore we investors should keep looking for new opportunities in the super exciting and rewarding world of stock markets.
Disclaimer: The facts presented in this article have been taken from the following sources:
https://www.mindspacereit.com/

https://ir.embassyofficeparks.com/

Annual Reports/investor presentations

Other credible Media outlets and news agencies.
While I have tried to make sure that the information presented here is accurate, some errors might have crept in. In case you spot any problems, please write in the comments below. Thanks for Reading!
Cover Photo by Simone Hutsch